A proposal for waterfront recreation projects in South Africa is a document that outlines the objectives, benefits, costs ,and feasibility of developing or improving public spaces along the coast or rivers of South Africa. Such projects aim to enhance the quality of life ,the attractiveness ,and the economic potential of waterfront areas by providing opportunities for leisure, culture ,and tourism.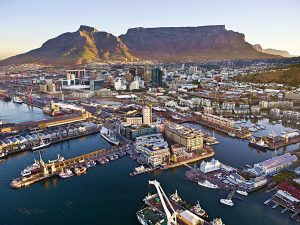 Some examples of waterfront recreation projects in South Africa are:
The V&A Waterfront in Cape Town, which is a mixed-use development that combines retail, entertainment ,and residential facilities with a working harbour and a maritime museum. The V&A Waterfront attracts millions of visitors every year and contributes significantly to the local economy.
The Durban Point Waterfront in Durban, which is a planned urban regeneration project that will transform an underutilized industrial area into a vibrant waterfront destination. The Durban Point Waterfront will feature hotels, apartments ,and offices; a cruise terminal; a promenade; and a surf park.
The Mbombela Riverwalk in Nelspruit, which is a proposed recreational corridor along the Crocodile River that will link various attractions such as parks, gardens ,and museums. The Mbombela Riverwalk will offer scenic views ,educational opportunities ,and cultural events for residents and visitors.
Coastal cities in South Africa:
South Africa has a long and varied coastline that offers many beautiful and interesting cities to visit. Some of the coastal cities in South Africa are:
Cape Town, the capital of the Western Cape province and one of the most popular tourist destinations in the country. Cape Town is known for its stunning natural scenery, including Table Mountain, Cape Point, and the beaches of Camps Bay and Clifton. Cape Town also has a rich cultural and historical heritage, with attractions such as Robben Island, Bo-Kaap, and the V&A Waterfront.
Durban, the largest city in KwaZulu-Natal province and a major port on the Indian Ocean. Durban is famous for its long stretch of golden beaches, its warm subtropical climate, and its diverse and vibrant culture. Durban is also home to uShaka Marine World, Moses Mabhida Stadium, and the Golden Mile promenade.
Port Elizabeth, also known as Nelson Mandela Bay or PE, is a city in Eastern Cape province that lies at the end of the Garden Route. Port Elizabeth is a gateway to many wildlife reserves, such as Addo Elephant National Park, Shamwari Game Reserve, and Kragga Kamma Game Park. Port Elizabeth also has a rich history of resistance against apartheid, with landmarks such as Red Location Museum and Donkin Reserve.
East London, also called eMonti or Buffalo City, is a city in Eastern Cape province that lies on the Buffalo River estuary. East London is one of South Africa's oldest cities, with a history dating back to 1836. East London has a mix of urban and natural attractions, such as Nahoon Beach, Hemingways Mall, East London Museum (which houses fossils of prehistoric animals), and Inkwenkwezi Private Game Reserve.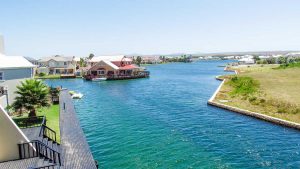 Water sports in South Africa coastal cities:
Water culture is very popular and diverse in South Africa's coastal cities. People enjoy a variety of water sports, such as surfing, waterskiing, scuba diving, kitesurfing, sailing and more. Some of the best places for water sports in South Africa are:
Jeffrey's Bay, a town in Eastern Cape province that is known as one of the world's best surfing spots. Jeffrey's Bay hosts the annual Corona Open J-Bay, a prestigious event on the World Surf League Championship Tour. Jeffrey's Bay also offers other activities such as fishing, kayaking, and whale watching.
Sodwana Bay, a marine reserve in KwaZulu-Natal province that is part of the iSimangaliso Wetland Park. Sodwana Bay is a paradise for scuba divers and snorkelers, who can explore the coral reefs and encounter diverse marine life, such as turtles, dolphins, sharks, and rays. Sodwana Bay also has sandy beaches and coastal forests to enjoy.
Langebaan, a town on the west coast of Western Cape province that is situated on a lagoon. Langebaan is a hotspot for kitesurfing and windsurfing, thanks to its consistent wind conditions and flat water. Langebaan also offers other water sports such as kayaking, sailing, fishing, and jet skiing.
Knysna, a town in Western Cape province that lies on the banks of a large estuary. Knysna is a scenic destination for water sports enthusiasts who can enjoy canoeing, stand-up paddle boarding (SUP), boating, sailing, fishing and more. Knysna also has many attractions on land such as forests trails , golf courses ,and markets.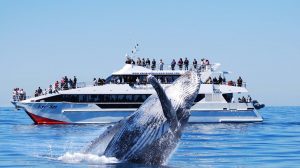 Most popular water recreation in South Africa:
South Africa has many options for water recreation, both on the coast and inland. Some of the most popular water recreation activities in South Africa are:
Shark cage diving, where you can get up close and personal with great white sharks and other marine predators in a safe and controlled environment. Shark cage diving is available in several locations along the coast, such as Gansbaai, Mossel Bay, and False Bay.
Seal snorkeling, where you can swim with playful Cape fur seals in their natural habitat. Seal snorkeling is a fun and eco-friendly way to interact with these amazing animals. Seal snorkeling is offered in Hout Bay near Cape Town.
Surfing, where you can ride the waves on some of the best beaches in the world. South Africa has a variety of surf spots for all levels of surfers, from beginners to pros. Some of the most famous surfing destinations are Jeffrey's Bay, Muizenberg, Durban, and Elands Bay.
Kiteboarding, where you can harness the power of the wind and glide across the water on a board attached to a kite. Kiteboarding is an exhilarating sport that requires skill and balance. Kiteboarding is popular on the west coast of South Africa, especially in Langebaan, Bloubergstrand ,and Saldanha Bay.
Whale watching, where you can witness the majestic beauty of whales as they migrate along the coast or breed in sheltered bays. Whale watching is a seasonal activity that usually takes place between June and November. Some of the best places to see whales are Hermanus ,Plettenberg Bay ,and St Lucia.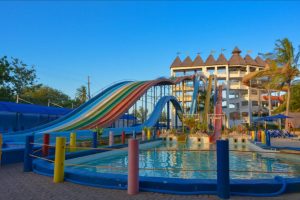 how to build water recreation in South Africa:
Building water recreation in South Africa is a complex and challenging task that requires careful planning, coordination, and investment. According to some sources, some of the steps involved are:
Assessing the demand and potential for water recreation in different regions and communities, taking into account factors such as population size, income level, tourism potential, environmental impact ,and cultural preferences.
Identifying and securing suitable sites for water recreation facilities ,such as dams, lakes, rivers ,and coastal areas. This may involve obtaining permits ,licenses ,and approvals from various authorities and stakeholders.
Designing and constructing water recreation facilities that meet safety standards ,quality criteria ,and user expectations. This may include building infrastructure such as roads, parking lots ,and restrooms; installing equipment such as boats, jet skis ,and kayaks; and providing amenities such as restaurants, shops ,and accommodation.
Managing and maintaining water recreation facilities to ensure their sustainability and profitability. This may involve hiring and training staff; setting fees and tariffs; marketing and promoting the facilities; monitoring and evaluating performance; enforcing rules and regulations; and addressing issues such as pollution, vandalism ,and security.
Evaluating the social ,economic ,and environmental impacts of water recreation on local communities and ecosystems. This may involve conducting surveys, interviews ,and focus groups; collecting data on indicators such as income generation, job creation ,and biodiversity conservation; and implementing measures to mitigate negative effects or enhance positive ones.